The attitude of the Indian Air Force (IAF) towards indigenous aircraft projects is often a subject of intense debate. With the IAF's Chief of Air Staff (CAS), Air Chief Marshal (ACM) RKS Bhadauria, throwing his full weight behind the Advanced Medium Combat Aircraft (AMCA) project in recent statements, both social media as well as the press at large are ablaze with opinions from all over. One such op-ed is by analyst Abhijit Iyer-Mitra, where the author has come down heavily on India's approach to the AMCA programme. He declares that the faith reposed by the IAF on the AMCA programme as it currently stands "reveals the deep malaise in our defence thinking, born from a lack of institutional handover of knowledge".
In this piece, we provide a counter to Iyer-Mitra's claims and argue that his conclusions are not supported by data.
Claim:
"the only reason we still fly the "flying coffin" MiG 21s is because of the inordinate delay in the induction of the fourth generation Tejas – the aircraft whose maiden flight took place in 2001 but which is yet to be operationalised 18 years later.This is when the US, Russia, and China have started fielding fifth generation fighters with the US operationalising the F22 back in 2005."
Fact:
The author claims that the LCA Tejas is yet to be operationalised. The reality, however, is that one full squadron of Tejas⁠⁠ Mk1 fighters—the 'Flying Daggers'⁠—has already been constituted. The aircraft has also participated in various exercises where it has proved its mettle. For instance, during Gagan Shakti 2018, the Tejas put its capabilities on display by racking up the best range scores for weapons' delivery and accuracy, while maintaining exceptional sortie rates and availability throughout this deployment . The Flying Daggers are slated to join front line service in the near future. 
Admittedly, the machines in the squadron are in the Initial Operational Clearance (IOC) configuration and Final Operational Clearance (FOC) standard Tejas units are yet to join the IAF. However, the key point to note here is that IOC-standard aircraft are "operational", in the sense that they are combat capable, albeit with a limited repertoire. Incidentally, Iyer-Mitra himself uses IOC as a criterion for considering the American F-22 operational in the course of his diatribe (F-22 achieved IOC in 2005). By the same yardstick, the Tejas is also already operational, given that it achieved IOC in 2015. What is more, Iyer-Mitra's use of the expression "inordinate delay" is puzzling. The Tejas's development schedule following the first flight compares quite favourably with that of contemporary fighters like the Eurofighter Typhoon, Saab Gripen and Dassault Rafale.  
Claim:
"When the aircraft was conceived in an era before fly by wire (fbw) system was introduced, "light" denoted manoeuvrability. Recall how the original Maruti 800 was once considered much easier to drive than the bulky Ambassador, but the entry of electronic steering made even a huge BMW 7 Series just as easy to drive as a minuscule Tata Nano."
Fact:
This paragraph is not only wrong on multiple counts; it also makes a mockery of basic Newtonian mechanics. Let us take the claim that '"light" denoted maneuverability. At no point in aviation history has this been true. While light aircraft are sometimes nimbler than their heavier counterparts because of their lower inertia, heavy fighters can be just as agile as light and medium-weight ones. For instance; the F-4 Phantom, the F-14 Tomcat, the F-15 Eagle, the F-22 Raptor, and the Su-27 are often regarded as some of the most maneuverable designs out there; and they are all "heavy" fighters. Of these, the first three were built before the introduction of fly-by-wire controls.
Historically, lightweight fighters were built because air forces needed relatively simple designs that were less challenging to develop than heavier ones, cheaper to produce and operate, and thus could be fielded in numbers. That was the intent behind the Tejas as well. When it was initially conceived, the IAF stated its preference for an inexpensive fighter to replace the large number of MiG-21s in its inventory, with air defence as the primary role and a supplementary ground attack capability. As such, it was required to possess the same 'footprint' as the MiG-21, and use the base infrastructure already built to accommodate the MiG-21 fleet. 
Be that as it may, anyone who has driven on crowded Indian streets would attest to the fact that a heavy BMW 7 Series is nowhere near as nimble as a Tata Nano or a Maruti 800. A power steering (which Iyer-Mitra for some reason calls an "electronic steering") does not neutralize the inertia of a heavier car. The use of this analogy suggests that the author has conflated two distinct concepts: the manual effort required to move the controls of an aircraft; and the aircraft's intrinsic agility, which is a function of its aerodynamic configuration. 
While fly-by-wire (FBW) controls do reduce the manual effort required to actuate the controls, they do not necessarily affect an aircraft's maneuverability. The best examples of this are civilian airliners—they have FBW controls, but aren't any nimbler than their predecessors with manual controls. What FBW controls do is enable the aircraft designer to create a statically unstable design. The static instability is what gives modern fighters their exceptional agility and aerodynamic efficiency. But there are exceptions to this as well, like the MiG-29A, which despite being manually controlled and statically stable, can easily out-manoeuvre the F-16 with its FBW controls and relaxed static stability.
Claim:
"Too much emphasis [has been placed] on engine thrust and thrust vectoring despite close-range air combat having moved away from G force manoeuvring to get into an attack position to Angle of Attack, which emphasises maintaining power and recovery from a steep manoeuvre."
Fact:
Superior kinetics are a vital requirement in any fighter aircraft design, regardless of its generation. Thrust and drag are directly correlated to speed, and speed is essential in maximizing the reach of beyond visual range missiles (BVRAAMs). This is best explained by an analogy: A javelin hurled by an athlete taking a long run-up will travel further than one tossed by a person standing still. The reason⁠—the former's initial velocity would be higher, and so would its range. As a matter of fact, the F-22 boasts of ~50-200 percent more range for the same weapons, when internally carried and launched at a supersonic cruise speed as compared to most 4th generation platforms which typically remain subsonic during weapons delivery.
In close-in dogfights, excess thrust not only permits extreme maneuvers, but also allows the aircraft to rapidly recover from low-energy states. In a fifth-generation fighter, which the AMCA is conceptualized to be, a powerful engine is also necessary to power the advanced avionics (radar, active jammers, computers, datalinks, and more) that give it an edge over earlier generation designs.
Ironically, the author criticized the Tejas earlier in the same article for having "neither the extra power nor the space to accommodate the additional electronics such as data boxes, secure network devices, built-in countermeasures and associated wiring". and here he criticizes ADA for learning precisely from that experience and making allowances in the available engine thrust for future growth. 
Claim:
"A continuing emphasis on kinetics as opposed to understanding that a fifth generation aircraft is essentially a computer in the air, able to cut short the processing time, and reduce the 'detect to kill chain' (the time taken between detecting and killing an aircraft – essentially the ability to detect first and shoot first, and in the case of stealth, hopefully avoid being detected) by several tens of seconds (the difference between life and death)."
Fact:
Kinetics and computers are not the mutually exclusive elements that Iyer-Mitra makes them out to be. Fifth-generation fighters flying today⁠—whether it be the American F-22 and F35, or the Russian Su-57, or indeed the Chinese J-20⁠—are designed to maximize the possibility of getting the first look/first shot without compromising kinetics. Moreover, in the initial stages of an aircraft's design, the emphasis is usually on establishing the shape (or more accurately, the "outer mould line"), since it is nearly impossible to change the airframe later. The 5th generation (and indeed some of the 6th generation) characteristics that Iyer-Mitra wants the AMCA development team to focus on are essentially related to the avionics package. Avionics can be modified, upgraded, and added as development goes on. It is therefore natural for the development agency to place more emphasis on the airframe at this stage.
Claim:
"The lack of emphasis on deep networking with other detection and attack assets, which form the basis of the fifth-generation combat that allow it to hand over time-critical information to assets that may be better positioned or equipped to fire the first shot."
Fact:
The IAF is slowly but surely building its network centric warfare (NCW) capability using a dedicated communication network called Air Force Network (AFNet) as its backbone. It utilizes a ground based fibre optic network , satellites and few other elements to move information around. 
The Integrated Air Command and Control System (IACCS), built upon AFNet , is a command and control (C2) system for air defence. It fuses the IAF's various ground, airborne and space-based assets to create situational awareness across India's airspace for effective monitoring and control. IACCS has the capability to transmit operational data, voice and video across all connected platforms in its ambit. Eventually, non-IAF sensors like civilian radars, space-based assets and various systems from Indian Army and Indian Navy will also be integrated with it. Importantly, IACCS played a crucial role in thwarting the Pakistan Air Force's attempted revenge after the Balakot strike of February 26, 2019. 
The IAF has also built a dedicated 3G WCDMA network called Air Force Cellular (AFCEL) network to provide mobile and secure 'end-point' connectivity to its air warriors deployed across India. It forms a crucial component of the IAF's network-centric operations (NCOs) by delivering timely and accurate information to its personnel in a secure manner. AFCEL is slated to be upgraded with a LTE/5G ready capability soon.
Furthermore, IAF has developed an operational data link (ODL) to enable its entire gamut of the shooters and sensors to share operational data among themselves and with the various ground stations. This standardized tactical data link allows a wide variety of units (fighter, helicopters, AWACS and UAVs) that the IAF owns to share critical battlefield information seamlessly, irrespective of their type and origin.The IAF is also planning to acquire over 4000 software defined radio (SDR) sets to interconnect its airborne and ground assets in a robust and jam-resistant manner. These initiatives will ultimately interlink to form an Adaptive Planning and Execution System (APEX) in a network-centric operational environment (NCOE). Based on the situational awareness feed from the tactical battlefield reaching Air HQ,as well as various command HQs and Base Op centers in real time, the IAF can close the OODA loop rapidly. APEX will enable the IAF to quickly adapt to dynamic future air battles and stay ahead of the enemy.  As these backbone capabilities are built-up and a full spectrum C4ISR system is realized, various platforms from the IAF's fleet will be integrated with it in a progressive manner.
Given the deliberate efforts from the IAF on building its NCW capabilities over the last decade, it is difficult to believe that the only 5th generation fighter that the IAF is planning to induct for the foreseeable future i.e. the AMCA, would fail to emphasize deep networking ability. In fact, ADA has specified 'network centric warfare' capability and 'sensor fusion' as key design features for the AMCA. Its integrated modular architecture should allow timely upgrades of various avionics packages for sufficient on-board computational power to fuse various data streams seamlessly, condense the data thus obtained and offer it to the pilot in an intuitive format for enhanced situational awareness and reduced decision time. Of course, a lot of the requisite components and technologies are at a nascent stage, but are nevertheless being developed even as we write this. In fact, let alone the AMCA, we should see even the LCA/MWF and the Su-30MKI receiving significant network-centric capabilities in the years ahead.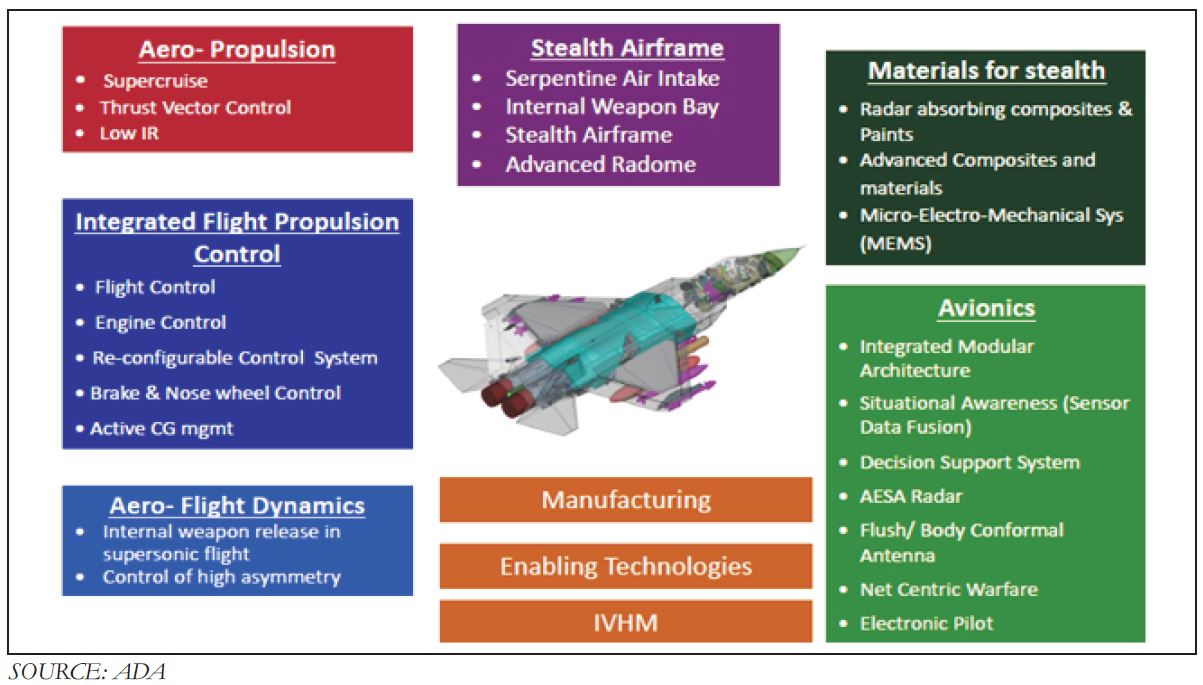 *Image taken from here.
Claim:
"No thought was given to a new range of smaller but long-range weapons to be carried in sufficient numbers concealed within the body of the aircraft."
Fact: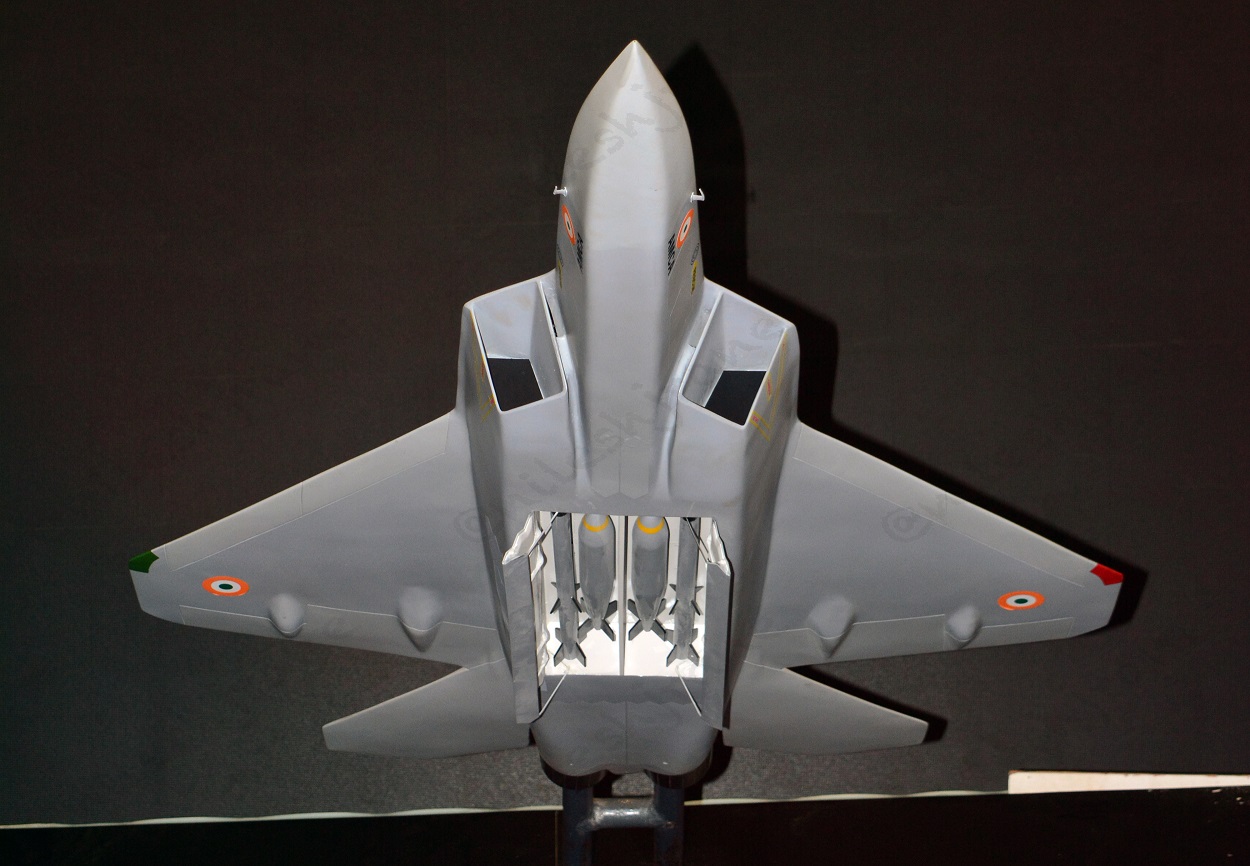 Certain ADA presentation slides mention "Internal and external carriage" or "precision weapons" as a key design driver. The AMCA is being designed to internally carry either four extended range air-to-air missiles or two 1000-pound bombs along with two air-to-air missiles. DRDO is already in the process of developing a whole slew of new generation air-launched munitions; such as the Astra and the SFDR BVRAAMs, the SAAW (a compact smart bomb), the SANT (an anti-tank missile based on the Nag), and a slew of 'glide-bombs', which the AMCA would presumably be able to carry. For someone to assert that "no thought was given" to such weapons is incorrect.
Claim:
"No thought was given to conformal sensors that blended into the aircraft's body or new materials like cockpit canopies that allow the pilot to look outside but prevent radars from detecting the cockpit (which is a major problem as it is not stealthed up like the rest of the aircraft's body) or frequency selective radome materials that perform the same function for the radar (allow the radar to function unimpeded, while preventing the radar's flat surface from being detected by other radars)."
Fact:
This is a strange assertion, since the author's own report from 2015 says that "Current official graphics and statements indicate that the AMCA is expected to house most sensors conformally to maximise stealth." The slide deck also makes note of the specifics: conformal antennae, an advanced radome, and a stealth airframe. Moreover, it is ludicrous for anyone to presume that no thought has been given with respect to developing special stealthy coatings for the AMCA's canopy, when its predecessor—the Tejas—features a radar-reflective indium-tin oxide (ITO) coating on it. 
Similarly, there is no particular reason to believe  that neither the IAF nor ADA did not consider a frequency selective radome for the AMCA, compatible with its own on-board radar. The 3D digital mock-up of the AMCA presented in the author's own report from 2015 shows that the AMCA has a tilted radar disk (see below) that serves to deflect impinging enemy radar waves away from the source: another standard feature of AESA radars meant for not only 5th generation aircraft but also for their 4.5-generation predecessors such as the Saab Gripen-NG.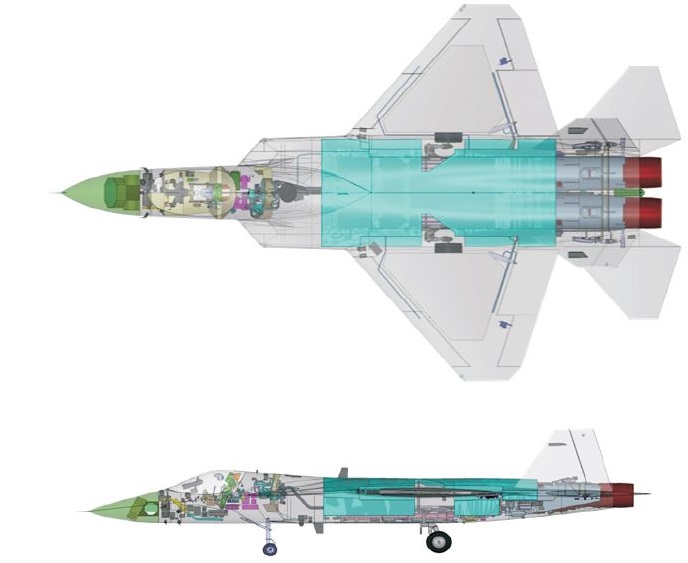 *Image taken from here.
Claim:
"A range chart that seemed horrendously muddled, implying that the twin-engine AMCA would cover the same range in twice the amount of fuel that an F-35 would with half the fuel."
Fact:
The chart in question (see below) is not "horrendously muddled", but is simply light on information. Without knowing the mission profile, payload, speed, altitude, and more, it is impossible to compare it directly with the metrics that other manufacturers provide.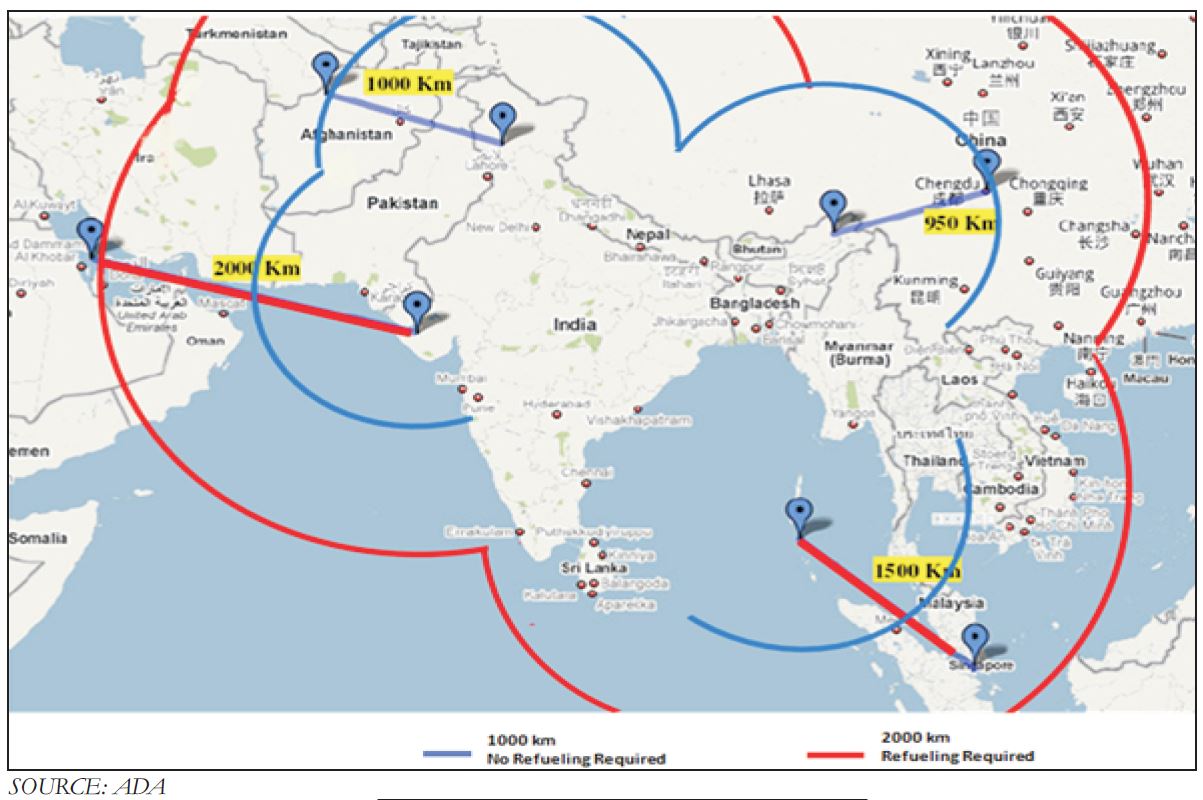 *Image taken from here.
The "serious conceptualisation flaws" that Iyer-Mitra alludes to, simply do not hold merit and perhaps betray an insufficient understanding of the considerations that drive aircraft design and the development process that follows. Furthermore, he appears quick to respond to reasoned counter-arguments with churlish name-calling on social media. For instance, he called a decorated veteran and qualified experimental test pilot a "taxpayer funded adrenalin junkie" and likened him to "ISI & Pakistan army generals". Criticisms of expensive, high-risk programs are important; however, such debates ought to be informed by facts and supported by a technically sound evaluation of various aspects of the same. Passing generalized comments without a nuanced technical evaluation of the AMCA does not bring any value to the discourse. As such, sweeping conclusions about the IAF's understanding of the matter and its ability to institutionalize learnings, only serve to further detract from the author's overall analysis. 
Nilesh Rane is an aerospace engineer with a keen interest in aerospace and defense matters.
Mihir Shah is a mechanical engineer who tracks military and aerospace issues. He has previously contributed to LiveFist Defence, Newslaundry, Swarajya Magazine, and the Indian Defence Review.

© Delhi Defence Review. Reproducing this content in full without permission is prohibited.