The just concluded Shanghai Cooperation Organisation (SCO) summit in Samarkand had a decided focus on trade and connectivity. Addressing the summit, Indian Prime Minister Modi highlighted the need for assured connectivity and resilient supply chains in the region.  As such, New Delhi has been concerned about the various restrictions on transit imposed by Pakistan, which limit India's access to Central Asian markets and are a major impedance towards creating a land route to Europe – especially at a time when China is going ahead with its mega project – the Belt and Road initiative. Clearly, the era for India to work upon building a resilient maritime logistics architecture is upon us.
History is replete with instances of re-routing of maritime trade in the face of disruptions – sometimes with epoch-making consequences. The fall of Constantinople in 1453 Common Era (CE) forced the European kingdoms to seek sea routes to the East. In more recent times, the Yom Kippur war of 1967 led to the closure of the Suez Canal for nearly eight years. As a result,  Europe-bound crude oil carriers from the Middle East were forced to circumnavigate the African Continent, thereby extending their voyages dramatically. Ironically, once freed from the limits on their size – imposed until then by the Suez Canal – the crude tankers grew bigger to attain Economies of Scale – a fundamental driving force in any transportation business. And thus, the age of super tankers was ushered in. As a maritime expert once told this writer, "Like water, cargoes have a way of finding their own paths of least resistance".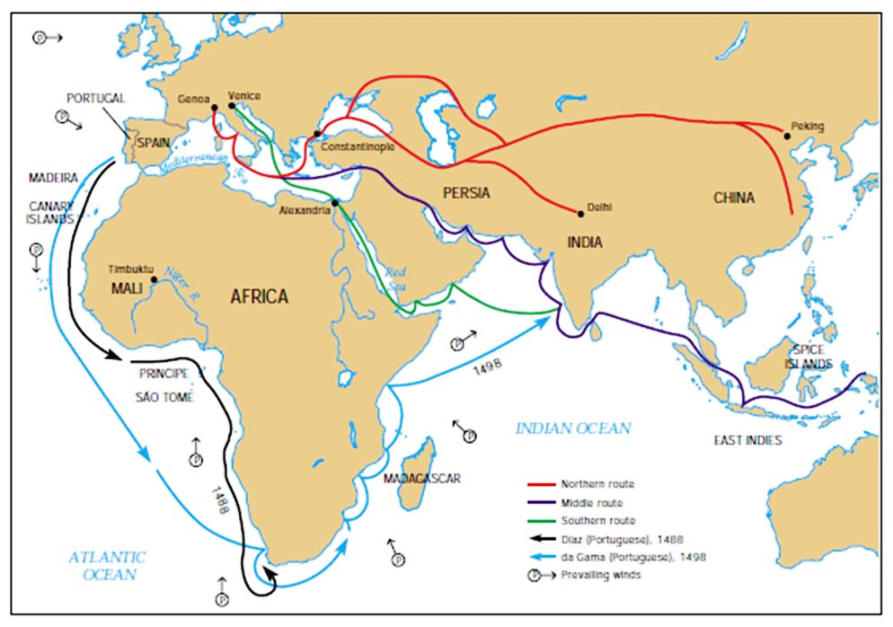 Fig. 1: Evolution of European Trade Routes to Asia – Before and after the fall of Constantinople. Source
The speed with which the enabling systems and structures came together to facilitate large-scale imports of Russian crude to feed  Indian refineries – much to the chagrin of the West – is the most recent example of how suddenly paradigmatic changes can happen in the sourcing of vital cargoes. On the dry cargo front, the International North-South Transport Corridor (INSTC) that includes  the participation of as many as 13 nations along the route, and ultimately connects St. Petersburg with Mumbai via the Caspian Sea and the Iranian port of  Bandar Abbas ( with the latter being replaced by Chabahar in due course) is another construct of such consequence. The complex route skips Afghanistan and Pakistan and does away with  Russia's dependence on the Ukrainian ports in the Black Sea. In June this year, a trial run along this route delivered a small consignment of containers to JNPT near Mumbai and took 25 days for the one-way trip that involved rail, road and the sea modes of transport. A saving of 30 per cent in distance traversed has been claimed.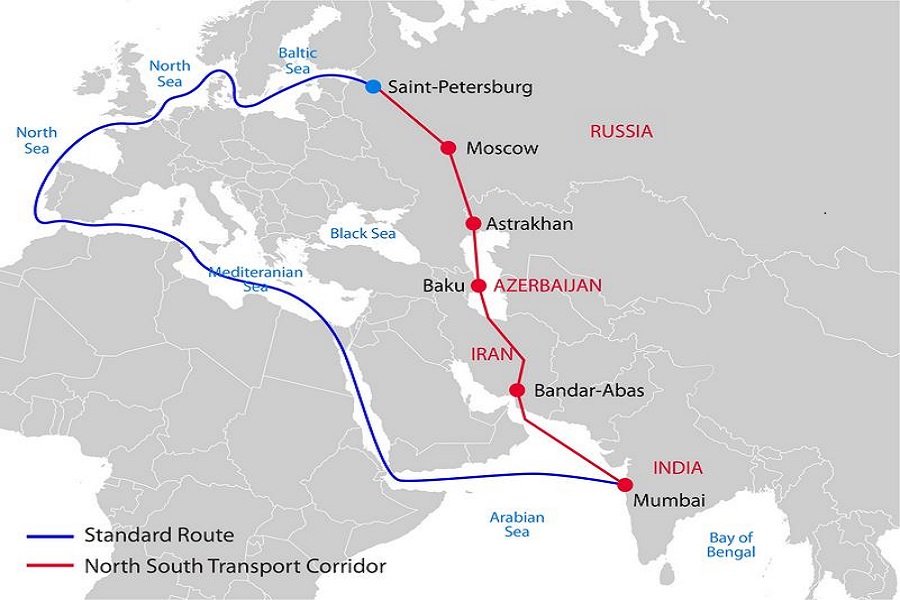 Fig. 2: International North-South Transport Corridor (INSTC) Source
Now, UNCTAD recently published a comprehensive report, titled 'Building Capacity to Manage Risks and Enhance Resilience – A Guidebook for Ports' . The report recommends a risk management approach in light of potentially disruptive events – that could be triggered by natural disasters, acts of terror, financial crises, cyber-attacks,  as well as environmental factors such as global warming and an attendant rise in sea levels. It very rightly states that:
"Shipping and ports handle over 80 per cent of global merchandise trade by volume, and more than 70 per cent of its value. Supply chain disruptions….can send shockwaves across supply chains and bring world trade and business to a halt".
As such, the UNCTAD report categorizes disruptions as local, regional and global. All disruptions need not be bad news for everyone. Unlike global-level disruptions such as the Covid-19 pandemic, regional disruptions could actually result in growth opportunities for competing ports and the associated services providers. Following the recent civil disturbances in Sri Lanka, the Colombo port – a major transshipment hub for containerized cargo originating from Asia – became practically inoperative. This proved to be a windfall for Indian ports. Disruption in Colombo, coupled with  last-mile connectivity issues in the Southern ports, however, forced 3PL companies serving the knitwear exporters based in Tirupur to opt for far-off JNPT and Mundra ports. Closure of Colombo port also highlighted the urgent need for a transshipment port in Peninsular India.  While JNPT or Mundra fit well into the role of being the port of origin or destination for Middle East cargoes, their geographic location however does not fall in the global maritime seaway as thar Colombo or Singapore does. The best fit in this respect would have been the port of Vizhinjam  in Kerala, which is delayed for several reasons.
Even a global disruption such as the Covid-19 pandemic came with a proverbial silver lining. In India, for example, e-commerce and the related warehousing and Business to Consumer (B2C) operations witnessed an exponential growth during the pandemic months. Post-Covid, the preference for e-commerce has taken hold of the Indian consumer. According to Indian Warehousing Market Report-2021 by Knight Frank:
"The e-commerce sector has been driving demand for logistics and warehousing across global markets and has emerged as the most prominent driver of Indian warehousing market volumes along with the 3PL (3rd Party Logistics) sector…Stocking requirements have gone up 3-4x in preparation for the prolonged pandemic".
Overall, there has been a shift from the 'Just-in-Time' philosophy of lean Supply Chain Management (SCM) to a 'Just-in-Case' approach that warrants safe-levels of stockpiling and maintenance of buffer stocks – notwithstanding the higher cost of inventory.
In the context of maritime logistics, resilience may be viewed as a systemic capability to –
Sustain essential services in the face of a disruption
Grasp unforeseen opportunities that may arise from and as a result of the disruption
Recover rapidly from said disruption and assume normal operational levels
India's dual seafront – spread along East and West coasts is dotted with 12 major ports and 212 minor ports offering a wide range of facilities. Consequently, the country offers several options in case of any local-level disruptions (Fig.3) to accommodate ships. The key issue is port-hinterland connectivity.
A recent study by this writer showed that there exist FIVE major constraints that need to be addressed quickly in order to enhance the efficiency, flexibility, redundancy, and resilience of India's maritime logistics:
Absence of a container transshipment port in the Southern peninsula;
Near-absence of India's own tonnage in container shipping;
First/last mile connectivity to our ports and terminals;
Non-availability of land in older ports due to population settlements
Excessive dependence on road transportation of freight
Fig.3: Indian Ports: Long Coastline, Vast Hinterland. Source
Delays in the development of Vizhinjam port has deprived the country of a transshipment hub along the international maritime seaway. It remains to be seen when the Indian government's latest proposal to develop a container transshipment port in the Nicobar Islands will take-off. Even if it does, it will remain, at best, a transshipment port, perhaps offering stiff competition to Colombo and Singapore and boost coastal shipping in India – especially on the East coast. However, it will also burden  hinterland connectivity further as trade booms.
The biggest beneficiaries of the recovery from the recent pandemic were the shipping lines who raised ocean freight rates dramatically. Indian exporters and importers are totally at the mercy of  foreign container shipping lines who have made forays into terminal operations. The figures published by Indian National Shipowners Association (INSA) in their Annual Review 2021, reveal that the containers handled by the Indian flag vessels in the year 2019-20 stood at a miniscule 2.8% of the overall numbers handled at Indian ports. In the same review, INSA also made this strong statement:
"The current container crisis has already seen the freight rates skyrocket with the Indian trade at the mercy of foreign shipping lines….the fact is that today there is no Indian container shipping left…Unlike India, China has a healthy national container fleet".
According to the UNCTAD Review of Maritime Transport 2021 (p.64) –
"In 2020, for exports to the US, the cost per 40-foot container was $2,000 to $3,000 but in the first six months of 2021 this had soared to an average $13,500".
If US buyers choose to source their imports from Mexico or other South American nations to save on logistics cost, India and other Asian exporting nations would suffer immensely. It is interesting to note here that some of the Chinese manufacturers are busy setting up factories in Mexico.
The biggest hurdle however, remains  first and last-mile connectivity. According to a senior manager of a company that deals with container movement through Chennai port –
"To cover a distance of 16 km between Manjambakkam industrial area and Chennai Port, it takes up to two days. The drivers are completely exhausted…There are no toilets or canteen facilities. There is no dedicated truck-parking space where they can wait for their turn".
A senior official who served in the planning department of a major port lamented that 'Most of our ports operate in the fire-fighting mode'. A top official who headed a major port in South Asia further said: –
"Design, planning and capacities of the cargo flow paths should not only take the projected organic growth, they should also consider one-off events that could unexpectedly alter the supply-demand functions".
The next constraint, viz., non-availability of land in older ports for expansion is not applicable to the newer, greenfield ports that are owned and managed predominantly by the private sector. As of now, land availability is not a constraint for these ports and  they are therefore poised to divert tonnage from older ports. Urban growth has restricted access to all our older ports . According to a senior manager working for a terminal operating in the private sector, 'The ongoing success and growth of the greenfield, private ports is directly attributable to failure of older, government-sector ports to meet the demands of the market'.
Given the present state of privatization and emergence of government-owned ports as landlord establishments focused solely on rent collection from terminals leased out to private operators, it is doubtful whether any of them will initiate measures to ensure logistical resilience. Such measures will call for intra as well as inter-port coordination and investments beyond the usual ambit of financial viability and Return on Investment (RoI). This is where the statutory rather than voluntary requirements need to put in place. One of the possible remedial measures to enhance overall logistic flexibility and resilience would be to focus on the development of multi-modal transportation – especially rail movement, inland waterways and coastal shipping.
That brings us to the last constraint identified – namely, excessive dependence on the  transportation of freight by road. Even though India is  blessed with an extensive rail network, it is only in recent times that dedicated rail corridors for freight are receiving serious attention. For now, it is the roadways and trucks that dominate India's freight movement (Fig.4).
Fig. 4: Increasing dependence on road transportation
[Based on: (Moving India to 2032. Vol. 2 Main Report, 2014) and (Draft National Logistics Policy, 2019)]
In a progress report on the corridors released by the Railway Ministry in Aug 2022, it was stated that nearly 50 percent of the track on the Eastern and Western Dedicated Freight Corridors have been commissioned (Fig.5).
Fig.5: Dedicated Freight Corridors (Rail). Source
So, what are then the key takeaways for the future development of maritime logistics in the Indian context in a world threatened by disruptions?
In retrospect, the Covid-19 pandemic was a global disruption that no nation was prepared for. It certainly imposed a new sense of urgency across the world on the need for building resilience into marine logistics and supply chains systematically and proactively.
Given the emerging reality of climate change, global warming, rise in sea levels and the destabilizing influence of wars and civil disturbances, acts of terror and cyber-attacks, world trade lies exposed to more disruptions than ever before. The challenge therefore is to 'future-proof'  maritime logistic networks through advance planning and risk mitigation. It goes without saying that these measures will have to be reviewed periodically and mitigation plans updated – learning constantly from disruptions.
Now is the time for India's policy-makers and port planners to initiate measures to factor resilience into maritime logistics. Capacity planning for the ports as well as the entire multi-modal network on the landward-side needs to be revisited and sufficient buffers are to be built not only to meet the growth projections, but to also offer a cushion to deal with future disruptions.
It is time to think and act beyond the Return-on-Investment (RoI) mode of planning when it comes to strengthening our maritime logistics infrastructure. Like everything else, resilience comes with a price. Lack of resilience on the other hand, will surely become more and more expensive in the long-run.
Sudhakar Unudurti is a marine engineer with an MBA in Maritime Management from the University of Leicester, UK and an MSc in Maritime Education & Training from World Maritime University, Sweden. His professional experience is spread over the past five decades and includes ship operations, ship design, maritime consultancy and maritime education and training. After his tenure at sea, he worked in the National Ship Design and Research Centre for fourteen years. Subsequently, he was the Vice-President and Head of Marine Practice in Infotech Enterprises and Country Manager in DNV Software. He also established and headed the IRClass Academy of the Indian Register of Shipping. He is currently an independent Maritime Logistics Consultant.

© Delhi Defence Review. Reproducing this content in full without permission is prohibited.