India's Defence Acquisition Council is likely to approve the acquisition of six indigenously developed weapon locating radars (WLRs) worth Rs 400 crores for the Indian Army (IA). Delhi Defence Review has learnt that the approval is for a new version of the Swathi WLR which is already in service with the IA. This new version, let's call it Swathi-2 for the time being, like its predecessor has been developed by the Electronics and Radar Development Establishment (LRDE), which is of course the Defence Research & Development Organization's (DRDO's) premier radar laboratory. As such, it would be worthwhile to take a closer look at the emergence of Swathi-2 as well other developments in the arena of indigenous military radar in India.
Image: The baseline Swathi WLR on parade during India's Republic Day celebrations
The baseline Swathi WLR is a C-Band phased array, developed by LRDE and produced by Bharat Electronics Limited (BEL). It can automatically track incoming hostile rocket, artillery & mortar rounds. Swathi can also track the trajectory of friendly rounds to locate their point of impact and issue necessary corrections. It is a two-vehicle system, with each vehicle being a 8×8 heavy duty truck manufactured by BEML Ltd on which different elements of the overall system are mounted. The phased array itself is mounted on a swivelling platform to provide wide coverage. Importantly, BEL has completed the production of Swathi WLRs ordered by Armenia, as part of $40 million deal, and the systems are likely to be delivered soon. Many other countries have also apparently evinced interest in the system.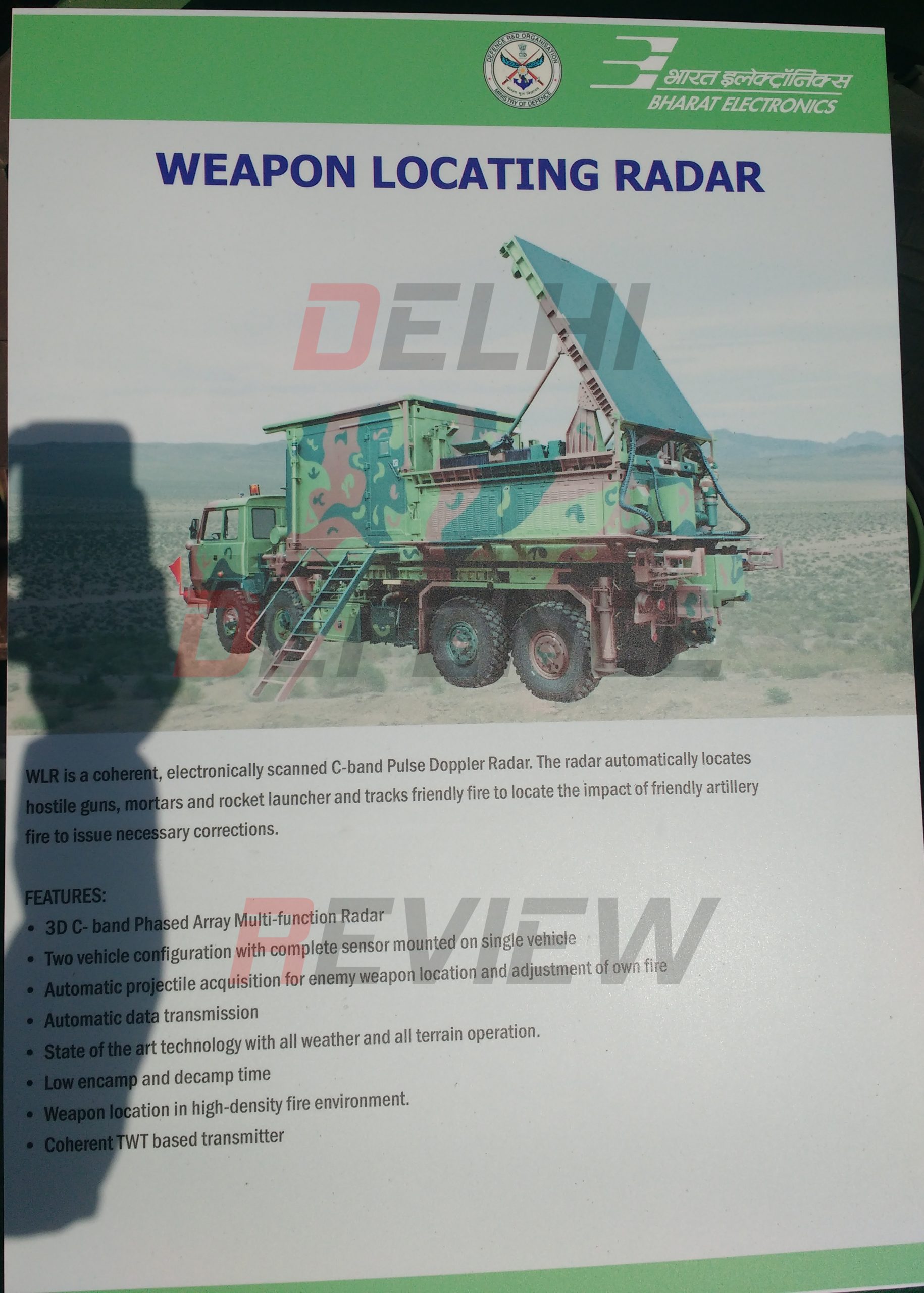 Image: Info Board on the Swathi WLR from the manufacturer BEL
Successor to the Swathi
Now, while the IA has found the Swathi useful along the line of control, it had nevertheless requested LRDE to develop a lighter version of this radar. This was to enable easier operations in mountainous terrain, especially along the line of actual control (LAC). Responding to this request, LRDE has developed a lighter version of the Swathi radar with a fixed radar array that has a 90-degree view. This array is mounted on a BEML-manufactured 6×6 truck for easier manoeuvrability in difficult terrain. It is noteworthy, that despite the smaller footprint, Swathi-2 has better performance than the earlier version and the IA is reportedly very pleased with its performance in mountain trials so far which have also been conducted in winter. Post-trials, the army now intends to buy six units of this new version at a cost of approximately Rs 400 crores and the matter is now with the DAC as mentioned earlier.
ADFCR
Image: Atulya ADFCR (bottom left) and other Indian military radar systems
India's Ministry of Defence recently brought out a list of items that will no longer be imported. Included in that list was the "Successor of Flycatcher &Upgraded Super Fledermaus (USFM) / Air Defence Fire Control Radar (ADFCR)". This inclusion has been made due to the development of an indigenous ADFCR called the Atulya. User trials for this system will be conducted later this year, having been delayed due to the COVID pandemic situation.
Image: Upgraded L70 Air Defence Gun
The programme for the replacement of outdated Flycatcher radars in service with the Indian military was split into two parts with one consisting of an immediate import of 66 units (possibly from Israel) followed by the acquisition of an Indian system, which is to be the Atulya. ADFCRs will be used to cue upgraded L-70 air defence guns, with 3 of them being slaved to each radar. As such, Atulya has reportedly passed developmental trials with flying colours and it remains to be seen if the planned imports are still on the anvil.

© Delhi Defence Review. Reproducing this content in full without permission is prohibited.