India's Ordnance Factory Board (OFB) aims to significantly increase its annual turnover in the years ahead from the current figure of around Rs 20,000 crore ($3 billion).  Moreover, OFB now seems to be relying on the success of its in-house developments to drive future growth. This would be a break from the past, since about 78 percent of OFB's current revenue comes from the production of licensed items of foreign origin. Be that as it may, given the current strategy, OFB's decision  to put  on display  several items that had been developed through in-house efforts during this year's Defexpo was unsurprising. While some of these offerings have already found favour with the Indian Army (IA) and are at the cusp of receiving the 'go ahead' for bulk production, others will be competing with imported systems being offered by private players in India for various IA modernization tenders. It should be noted, that OFB is already supplying India's Central Armed Police Forces (CAPFs) with some of its newly developed products in the small arms segment.
7.62 mm it is
Now, though new developments from the OFB stable include items such as electronic fuzes, it is in its more traditional areas of work such as small arms and artillery systems, that OFB has made the most noteworthy advances. Take the case of its new 7.62 x 51 mm assault rifle (AR), developed by OFB's Rifle Factory Ishapore (RFI) under the aegis of a 'Project Management Team' (PMT) headed by the IA's Director General of Infantry, that according to OFB sources fares quite well vis a vis a certain foreign AR in terms of both accuracy and penetration out to an effective range of  550 metres. Incidentally, this foreign AR, which is a more mature design, could well be the one chosen for the IA's fast-track purchase (FTP) of some 72,400 7.62 x 51 mm ARs from abroad (although some of these are also meant for Indian Air force and Indian Navy use). Meanwhile, OFB says that the IA's concerns with respect to their new rifle's stoppage rate is being addressed and in recent trials prototypes have been fired without any stoppage for some 2400 rounds, with one carbon cleaning performed after every 600 rounds. As such, some 30 new prototypes of OFB's rifle will soon be put to the test under the oversight of the PMT to refine the rifle and bring it up to speed in terms of the desired level of reliability. The rifle, of course, already meets the IA's weight stipulations as outlined in the relevant General Staff Qualitative Requirement (GSQR).
Image: OFB's new 7.62 x 51 mm rifle with a new muzzle brake.
Beyond the FTP purchase, the IA intends to induct another 7,00,000  7.62 x 51 mm ARs to replace the 5.56 x 45 mm INSAS variants currently in service. In fact, the other two services will also induct some units of the rifle chosen by the IA and that will increase the total requirement by another 5 percent or so. Now, OFB has already been nominated by India's Ministry of Defence (MoD) to supply 25 percent of this additional requirement and is also eligible to compete with the domestic private sector for the remainder, i.e 75 percent, of the additional requirement, whose procurement will be progressed under the  'Buy and Make (Indian)' category of the Defence Procurement Procedure. At present, OFB hopes to posit its new 7.62 x 51 mm rifle, which it  has developed in a 'record time' of under two years, to at least fulfil the procurement share for which it has already been nominated. OFB seems confident of achieving this objective, although Army sources indicate that it may have to work to improve the ergonomics of its design. While the rifle currently uses a FN FAL style magazine, OFB says that both a new metallic magazine as well as a translucent polymer magazine compatible with it are being procured. Interestingly, the example displayed during Defexpo had a new muzzle brake which OFB believes has addressed any residual concerns about recoil and noise levels during operation. Also unlike the old members of the INSAS family, this new rifle has a milled receiver. OFB's 7.62 x 51 mm rifle has a weight of 3.9 kg without its magazine, a barrel length of 400 mm, muzzle velocity of 800 metres per second (m/s), and can fire at a rate of 600-650 rounds per minute (rds/min). It is capable of both semi-automatic and full auto fire.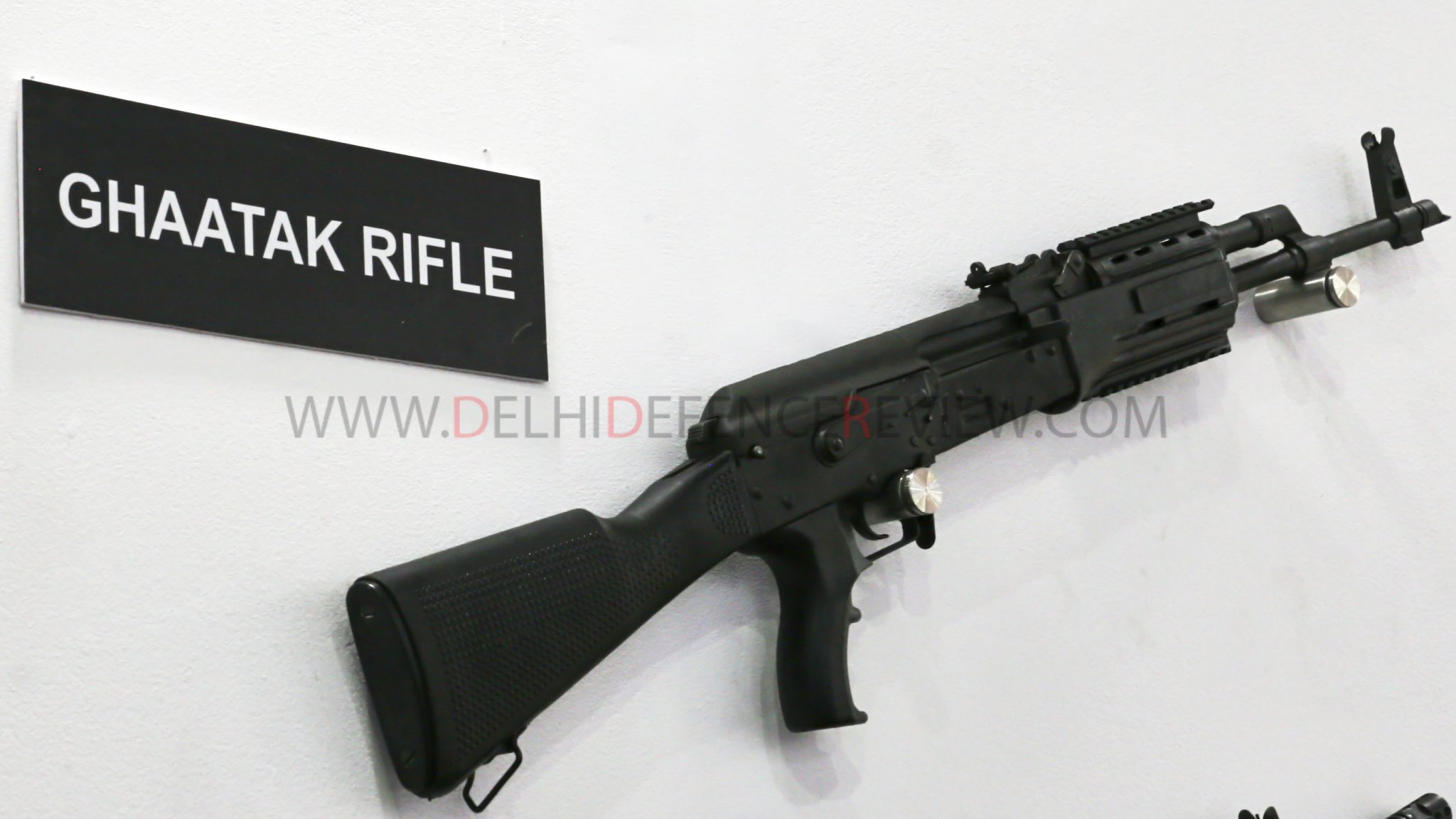 Image: The 7.62 x 39 mm Ghaatak
Now even as the new 7.62 x 51 mm rifle goes through its development cycle, OFB's 7.62 x 39 mm 'Ghaatak'  gas-operated AR , which weighs 3.5 kg without a magazine, is finding favour with CAPFs as a more cost-effective and modern replacement for older imported AKM derivatives currently in use. Ghaatak has a  chromium plated barrel for increased longevity and  can mount modern optics. It uses a 30-round capacity magazine and has a muzzle velocity of 700 m/s with a rate of fire of 600 rds/min. OFB believes the ruggedness and lethality of this weapon makes it very suitable for CAPFs and state police forces engaged in counter-insurgency operations. RFI has already supplied more than 3000 Ghaatak units to various police forces in India.
Image: The OFB-ARDE 7.62 x 51 mm belt-fed light machine gun
Defexpo 2018 also saw OFB displaying a belt-fed 7.62 x 51 mm light machine gun (LMG) which has been developed in association with DRDO's Armament Research & Development Establishment (ARDE) to cater to the IA's need to replace its 5.56 x 45 mm INSAS LMGs. This new  gas-operated OFB-ARDE LMG uses a tilting-bolt locking mechanism and is capable of a rate of fire of 600 rds/min, has a muzzle velocity of 800 m/s and weighs 9.5 kg.  It has a rivet less receiver with a quick changeable barrel and OFB says every weapon will come with a spare barrel. Capable of being both bipod and tripod mounted,it has a two position gas-knob, a MIL-STD 1913 Picatinny Rail for mounting accessories and has a modular trigger mechanism. This weapon is still currently undergoing internal trials.
Size does matter
While OFB is hopeful that its new 7.62 mm small arms will continue to deliver a steady value stream well into the future, the organization is also looking to its new artillery systems to aid revenue growth. The Dhanush 155 mm / 45 caliber howitzer would be a leading example of this. An indent for 114 Dhanush units has already been sent to OFB by the IA. Bulk Production Clearance (BPC), however, has not been accorded yet due to the occurrence of muzzle strikes during 'user exploitation trials' (UeXTs) last year. OFB now says, that its own set of internal trials conducted recently has led to a resolution of the muzzle strike issue with the muzzle brake for the Dhanush undergoing some changes. According to a senior OFB official, 'the muzzle strikes were on account of some optimization issues, which have  now been resolved ' and that 'OFB is hopeful that BPC will be accorded once the IA is done with residual UeXTs in the near future'.
Image: The 155 mm / 45 calibre Dhanush Howitzer during a live demonstration at Defexpo 2018
Dhanush is a deep upgrade and modernization of the baseline FH-77B design which is a 155 mmm/ 39 calibre system. Besides the change in calibre, Dhanush also boasts a number of improvements and embellishments that make it a more capable and accurate system. For instance, Dhanush has an artillery gun alignment and positioning system (AGAPS), an enhanced ballistic computer, day and night firing capability through the use of a day sight, a thermal imaging sight (TI) (for night) and a laser range finder (LRF), a muzzle velocity radar (MVR) and an inertial navigation system (INS) that can receive GPS updates. It is also compatible with the IA's Shakti Artillery Combat Command & Control System (ACCCS). As such, Dhanush can hit targets over 38 km away by using the 155 mm High Explosive (HE) M IA4 – Extended Range, Full Bore – Base Bleed (ERFB-BB) round, that OFB has been producing since 2001, along with a Zone-6 bi-modular charge system (BMCS). Dhanush production level prototypes currently have about 81 percent indigenous content (IC) in terms of value.
Now, it must be said that OFB seems confident enough about it ability to create upgraded and modernized variants of the original FH-77B design for it to mount a 155 mm / 52 calibre version of the same on a BEML 8 x 8 Tatra truck. Indeed, Defexpo 2018 saw OFB unveil (see image below) a 155 mm / 52 calibre 'Mounted Gun System' (MGS) that is clearly aimed at the IA's tender to procure some 814 units of such a weapon. It is worth noting, that OFB had first proof fired a deeply modernized towed 155 mm/ 52 calibre version of the FH-77B in 2015.  Very much similar to the Dhanush, the 52 calibre 'mounted gun' also has the same improvements over the baseline FH-77B with the incorporation of AGAPS, MVR, GPS aided INS etc.
Image: The new 155 mm / 52 calibre Mounted Gun System unveiled by OFB at Defexpo 2018
This MGS is also Shakti ACCCS compatible and is apparently light enough for OFB to claim that it has 'high strategic maneuverability', besides 'excellent shoot and scoot' capability. The Tatra 8 x 8 has locking differentials and a  300 kilowatt (kW) (402 HP) engine, which endows it with a power to weight ratio of more than 10 kW per ton. The vehicle has a cruising speed of 80 km/hr on road and more than 30 km/hr in cross-country  conditions and a cruising range of 1000 km without any need to refuel.
OFB's MGS carries 18 shells on-board along with 18 Zone-6 BMCS.  It has back-up emergency power for gun operations and has all-weather day/night operational capability. According to OFB, it can effectively engage targets up to 42 km away with ERFB-BB rounds. At the moment its IC is about 71 percent by value. Importantly, the overall MGS design itself is modular and can also mount other artillery systems developed in India.
OFB's ability to credibly upgrade legacy designs is further burnished by the fact that its upgrade kit for 'up-gunning' old IA 130 mm M-46 field guns to 155 mm / 45 calibre howitzers has been selected by the IA over imported kits being offered by domestic private players. It seems that OFB's indigenous solution was the only one to actually pass technical muster. At the moment,  OFB is awaiting an order for the upgrade of some 300 M-46 units, which it expects to receive soon. The up-gunned M-46s achieve a maximum range of just over 38 km with ERFB-BB rounds.
Image: An  155 mm / 45 calibre  'up-gunned' example of the legacy 130 mm M-46 / 52 calibre of Soviet Origin in the IA's arsenal
Alongside its work on modernizing artillery systems, OFB has also been stepping up its munitions related output. OFB's Nalanda factory (OFN) has churned out some 2,00,000 units of BMCS variants 'M-91' & 'M-92' to replace traditional cloth bag charges. The M-91 module is for lower zone requirements (Zone 1-2) with engagement ranges of up to 12 km and M-92 is for higher zone requirements (Zone 3-6) with engagement ranges between 13-38 km. 1-2 M-91s are used for short target ranges and training purposes while,  3 to 5 M-92s would be used with 39 caliber ordnance for longer range engagements. Also, 3 to 6 M-92s would be used with 45 cal & 52 cal ordnance for long range engagements. OFB emphasizes that there is 'No risk error' between  BMCS modules M-91 and M-92.
Image: BMCS modules M-91 and M-92 in various configurations
Both M-91 and M-92 are  linked, reversible and rigid modular charges and weigh 1.9 kg and 2.7 kg, respectively. While M-91 uses a single base propellant, M-92 has a triple base propellant. Gun powder is used as an igniter for both. The technology for these BMCS modules has been adapted and to an extent re-engineered from the original technology transferred by Denel. OFB, however, has fully 'indigenized' the supply chain for these modules and many parts/components have been worked upon to bring down costs. OFN has apparently also developed a unique production and integration process for these modules which has served to further bring down costs. The factory in Nalanda can  currently churn out 1000 such modules on a daily basis with production capacity set to be stepped up in the near future.
Indigenize and indigenize some more
Besides the focus on pushing up production of BMCS units as well as 155 mm artillery shells, OFB is also working on new ammunition types for other weapons. A 105 mm high explosive extended range (HEER) BB round is under development for the IA's 105 mm howitzers such as the Indian Field Gun (IFG). This new round would allow the IFG to engage targets at ranges of over 20 km without any need for modifications. Two new 40 mm rounds compatible with the under barrel grenade launcher developed by OFB in collaboration with ARDE are also under development. As is a 30 mm round that can be fired from OFB's 'indigenized' version of the AGS-30 automatic grenade launcher. Incidentally, OFB is also developing a 30 mm air defence gun with ARDE's support.
Of late, OFB has also managed  to fully 'indigenize' foreign designs such as a 40 mm multiple grenade launcher and the venerable FN MAG medium machine gun. It is also boosting production of a range of ammunition types. For example, earlier this year it began producing three new types of ammunition for the 84 mm Carl Gustaf Rocket launcher. The IA's rising operational tempo means that OFB has to up the ante as well. And heightened production has to be accompanied with heightened indigenization levels, given that budgets aren't unlimited.
Saurav Jha is the Editor-in-Chief of Delhi Defence Review. Follow him on twitter @SJha1618
Credit for all images: Sriram Thiagarajan

© Delhi Defence Review. Reproducing this content in full without permission is prohibited.